Venue & Hospitality
Endocrine 2017: Dallas, USA
Embassy Suites by Hilton - Dallas Park Central
13131 North Central Expressway Dallas
TX 75287, USA
Conference Dates: September 11-12, 2017
Hotel Services & Amenities
Audio/Visual Equipment Rental.
Business Center.
Business Phone Service.
Complimentary Printing Service.
Express Mail.
Fax.
Meeting Rooms.
Office Rental.
Photo Copying Service.
Secretarial Service.
Telex.
Typewriter.
Video Conference.
Video Messaging.
Video Phone.
ATM.
Baggage Storage.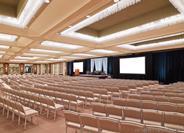 Transportation
Dallas/Fort Worth International Airport
International Parkway, DFW Airport, TX 75261, United States
Take I-635 E to Interstate 635 Service Rd in Dallas. Take exit 19B from I-635 E
↑ Head north on International Pkwy
Ω Partial toll road
3.4 mi
↱ Take the I-635 exit
1.4 mi
↑ Continue onto I-635 E
8.3 mi
↱ Keep right at the fork to stay on I-635 E
7.5 mi
↱ Take exit 19B towards Coit Rd
0.3 mi
Follow Interstate 635 Service Rd to N Central Expy
↟ Merge onto Interstate 635 Service Rd
0.6 mi
↰ Turn left onto N Central Expy
1.0 mi
↰ Slight left towards N Central Expy
0.1 mi
↰ Slight left onto N Central Expy
Ω Destination will be on the right
0.8 mi
Embassy Suites by Hilton Dallas Park Central Area
13131 North Central Expressway, Dallas, TX 75243, United States
About City
Dallas is a major city in North Texas and is the largest urban center of the 4th most populous (1.258 million) metropolitan area in the United States. Dallas is the county seat of Dallas County. The city has a total area of 385.8 square miles. The city's prominence arose from its historical importance as a center for the oil and cotton industries, and its position along numerous railroad lines. Dallas is considered as a strong industrial and financial center, and a major inland port, due to the convergence of major railroad lines, interstate highways, and the construction of Dallas/Fort Worth International Airport, one of the largest and busiest airports in the world. Dallas has been rated as a "beta plus" world city by the Globalization and World Cities Study Group & Network, and was fourteenth in world rankings of GDP by the Organization for Economic Co-operation and Development. Like many other cities, Dallas was founded along a river. The city was founded at the location of a "white rock crossing" of the Trinity River, where it was easier for wagons to cross the river in the days before ferries or bridges. The lake and the surrounding park is a popular destination for boaters, rowers, joggers, and bikers, and visitors as well seeking peaceful respite from the city at the sixty six acre. Dallas Arboretum and Botanical Garden is located on the lake's eastern shore. White Rock Creek feeds into White Rock Lake, and then exits onto the Trinity River southeast of downtown Dallas. The city is popularly known for its diverse architecture, festival, contemporary arts, and a superior quality of living.